We hope you'll enjoy our ads free website and videos on YouTube.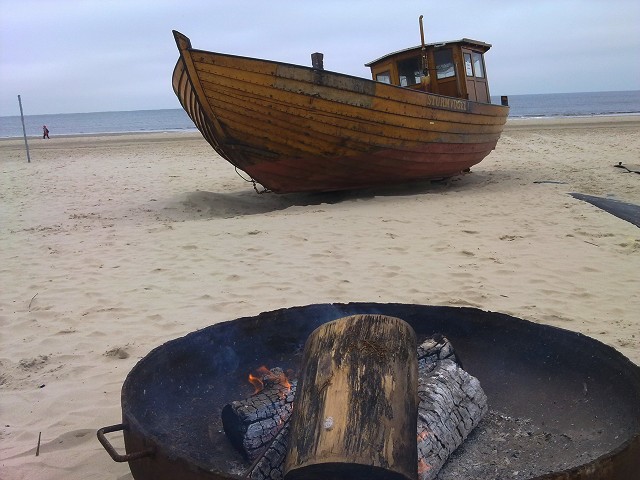 Click for weather forecast






The island of Usedom, also known as Berlin's Bathtub (Badewanne Berlins) is located in the Pomerania Euroregion. It's where the most famous and beautiful Baltic seaside resorts were established in the 19th century. It's also the sunniest part of Germany and Poland. The island has 44 km (27 miles) of shoreline with pristine, sandy beaches and could be compared in many ways to Martha's Vineyard, Nantucket or The Hamptons in the USA.

Usedom Island, also called Uznam in Polish, is a divided island between Poland and Germany. It's located on the Baltic Sea, in the historic Pomerania region. Pomerania is now an Euroregion. The island is named after the town of Usedom, which is one of the oldest settlements on the island. The German and English name of the town got its name from the Slavic name of the town Uznam, which means "a river mouth". The name Uznam is still used in the Polish language as a name for the town and the island.

The island was created as a result of the latest ice age, the Weichselian Glaciation, which reached its climax about 18,000 years ago. The site of the town of Usedom was settled since at least Neolithic times. Other locations mostly on Southern parts of the island were settled as early as the Stone Age.

Usedom Island was fortunate to keep its unique indigenous culture longer then many other European regions. It was Christianized late in history, on June 10, 1128 when the Pomeranian dukes were forced by German missionaries to convert to Roman Catholicism. That historic date also marks the beginning of the fall of the dukes, many deaths, witch trials and a leanthy process of Germanisation of the region. Perhaps such events inspired The Amber Witch, a book written in Koserow (Coserow) on Usedom Island possibly in 17th century, and published by Wilhelm Meinhold in 1838. Its German title is Maria Schweidler, die Bernsteinhexe. In later centuries, the island became a part of the Kingdom of Prussia (1525-1918) and a part of Germany [History of Prussia] after World War I.

During the Thirty Years' War the island became largely depopulated. And after the fall of Prussia, many German Pomeranians relocated primarily to the metropolitan areas of Berlin and Hamburg. Perhaps that's another reason why the island had become so popular with their descendents from those regions. Many other Pomeranians emigrated to the United States, and settled mainly in the State of Wisconsin [more info].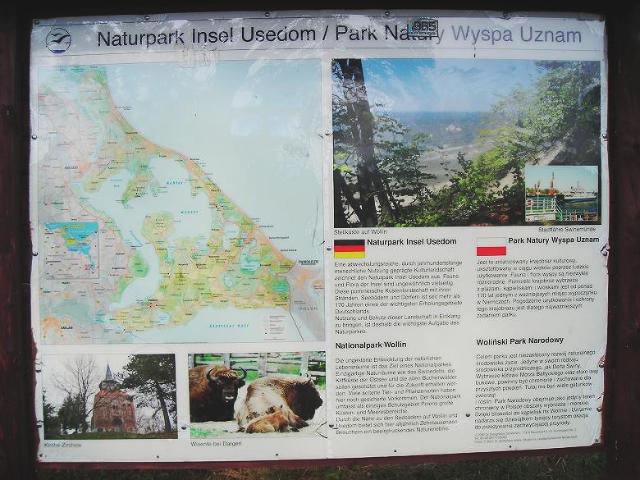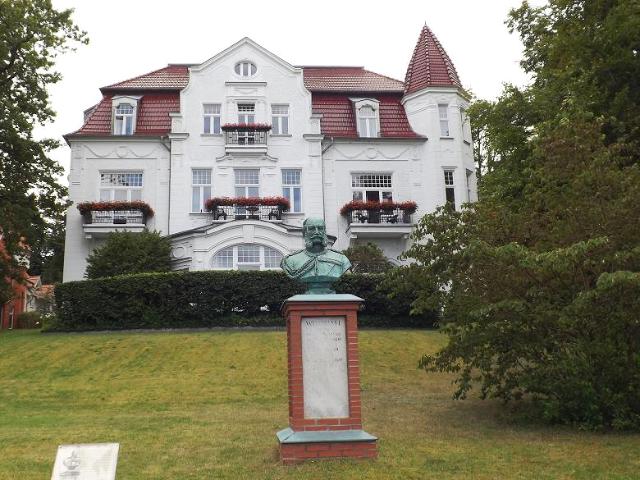 Emperor Wilhelm I often stayed in this seaside villa in Heringsdorf.
His palaces were in Potsdam or Berlin, among other places.
See it @ Google Maps.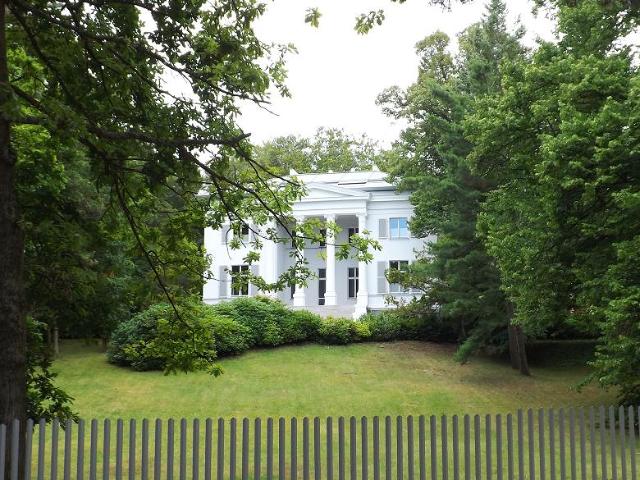 Villa Oppenheim in Heringsdorf.
A fine examples of 19th-century architecture on the island.
L. Feininger often used this villa as a motif for his watercolors and woodcuts.


Lyonel Feininger (1871-1956), a leading New York expressionist painter spent summer vacations on Usedom Island from 1909 until 1921 when he was studying art in Berlin. He was greatly inspired by the island and created many painting and drawings there and continued painting scenes from the island for the rest of his life, after returning to the United States. A fifty kilometers long Lyonel Feininger bike tour was created on the island with signs on posts and round markers on the ground to locations that were immortalized in the artist's works. Some of those are the Dutch windmill of Benz, the church in Benz, and the iconic Lightmill (Mulenbake, Stawa Mlyny) in Swinoujscie.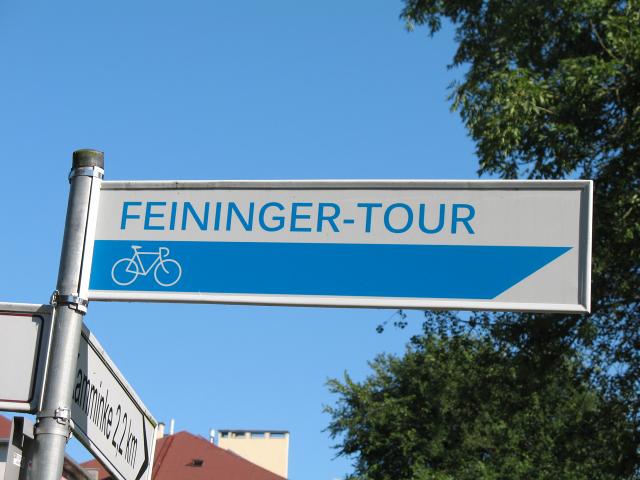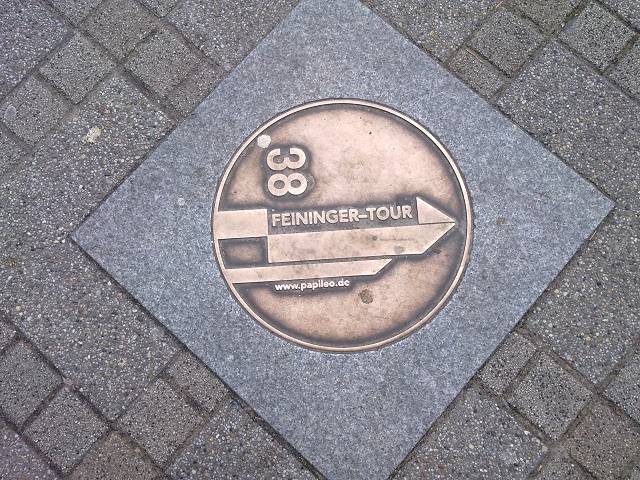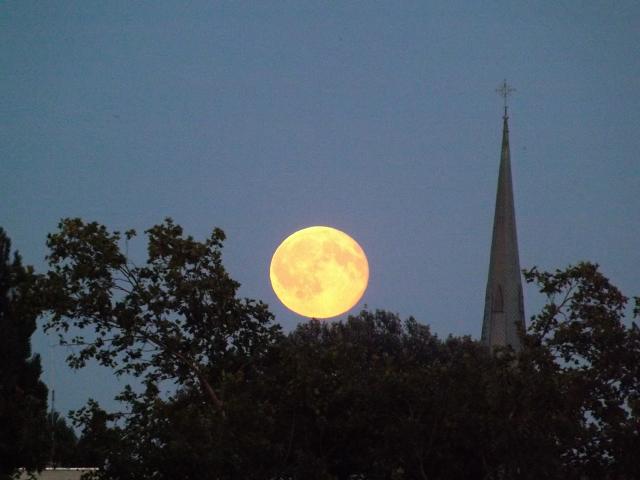 Usedom Island has been popular not only with artists, bourgeoisie and aristocrats. It was also a destination for followers of early counter-culture movements such as Lebensreform, which was an early freedom culture movement, for the FKK movement and Wandervogels, a youth movement originally from Berlin. And by the way, the above mentioned movements later became prototypes for California's Nature Boys and 1960s hippies. According to some sources, the island was also a popular destination for some East German (GDR) dissidents during the Cold War. Your guide, the author of this article also used to be a flower child and a participant of the 1960-70s Peace Movement in the United States.

Since Poland signed the Schengen Agreement in 2009, the long promenades of Poland and Germany joined to form a "Grand Strand" that's over 40 km long. It's now Europe's longest promenade or esplanade. There is also a bicycle route along that Grand Strand, which passes through the island's four spa resorts of Swinoujscie, Ahlbeck, Heringsdorf and Bansin. There is also a sidewalk along that same route that is ideal for tracking, walking or Nordic walking. The route connects with other bicycle routs that lead to Zinnowitz, Wolgast and neighboring islands of Rugen and Wolin .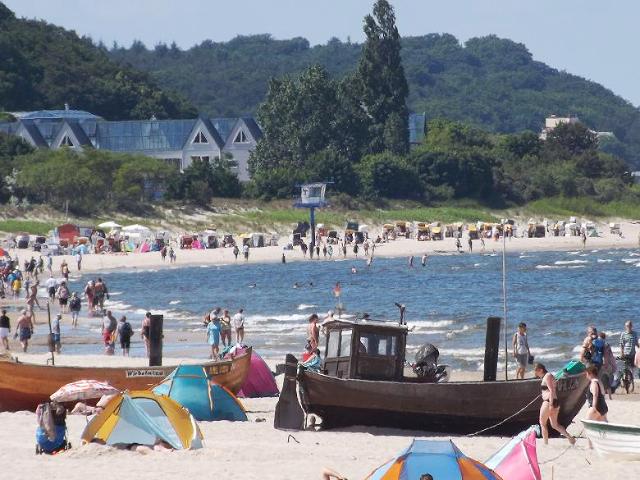 Every town and village on the island has a unique character and community sense of its own. The oldest and most popular resorts are Swinoujscie, Zinnowitz, and the three Kaiserbader i.e. Ahlbeck, Heringsdorf, Bansin.

Usedom Island is near the cities of Berlin, Hamburg, Rostock and Szczecin (Stettin). It's easy to reach through various forms of transport. There are dedicated bus services and a train company Usedomer Baderbahn (UBB) with headquarters in Heringsdorf that connects the island with Greifswald, Stralsund and Berlin. There's also Heringsdorf & Swinoujscie Airport that connects the island with some cities in Germany and Switzerland. There's also the Peenemunde Airfield for zepplins and private aircrafts. Naturists may also find a seasonal naked airline service from one of the German cities. For those who would like to travel on their own two wheels, there is a regional long-distance bicycle route (BER-04) between Berlin and Usedom that's approx. 337 km / 209 mi long. Bicycles are more then welcome everywhere on the island. Don't have a bike of your own? No problem. There are many reasonably priced bike rental services available. But remember not to leave your bike unattended.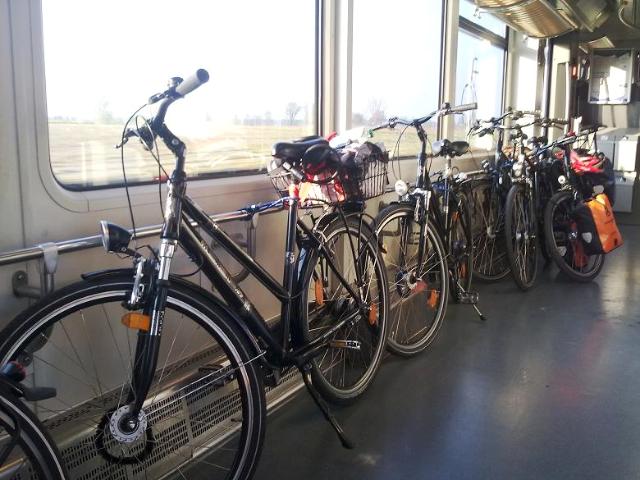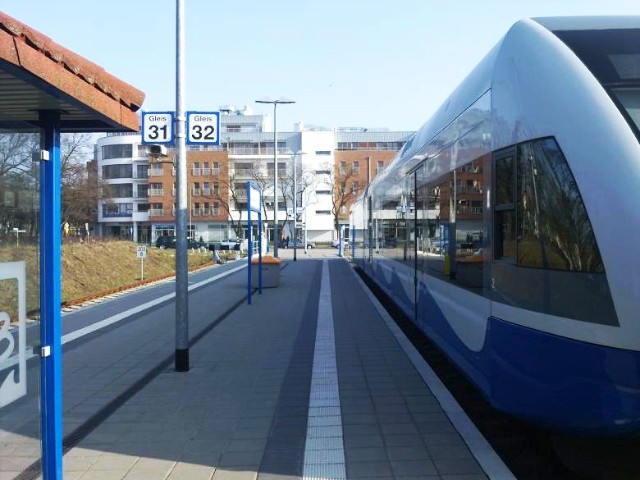 UBB train at Swinoujscie station. Notice the blue sea wave design on the bottom of the train.
See it @ Google Maps


Usedom Island is perfect for enjoying simple pleasures such as camping, biking, kitesurfing, hiking, fishing, tracking, walking, Nordic walking, Yoga, chilling, etc. There are camping sites, beaches, parks, forests, animal and botanic farms, museums, golf courts, skateboarding parks, marinas, promenades, boardwalks, many piers, cafes, shops, restaurants, lots of fresh air and clean water for everyone to enjoy. And if that gets a bit dull, the island has modern shopping centers and other facilities for your convenience.

Most of the island is a nature reserve with rare wildlife such as bison (buffalo) at a ranch near Dargen, rare bird species such as the giant sea eagle and wild animals that may often go roaming about freely.

For those who are artistically inclined or interested in Yoga and alternative science, the island has positive energy and the right climate for inspiration, meditation, opening of energy centers, rejuvenation and healing; especialy at the many spas; some also offer brine and mud baths from local natural wells.

On the spiritual side of life, there are old churches and an ancient pilgrimage route to Camino de Santiago known as the Way of St. James. The Pomeranian Way of St. James is marked with sea shell design trail markers (see photo below). More info here and here.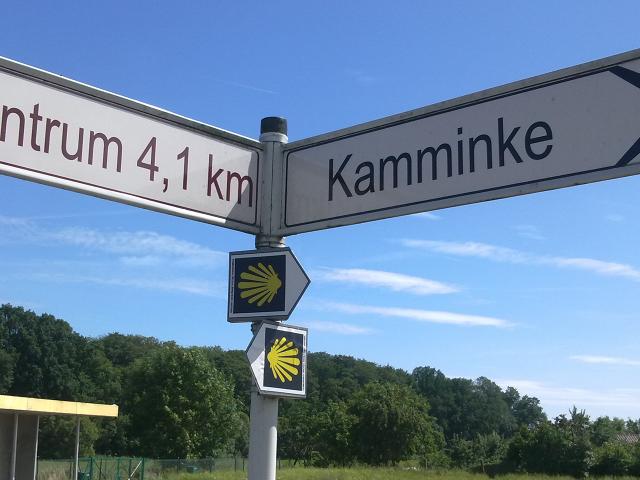 Sea shell design trail markers on the Pomeranian Way of St. James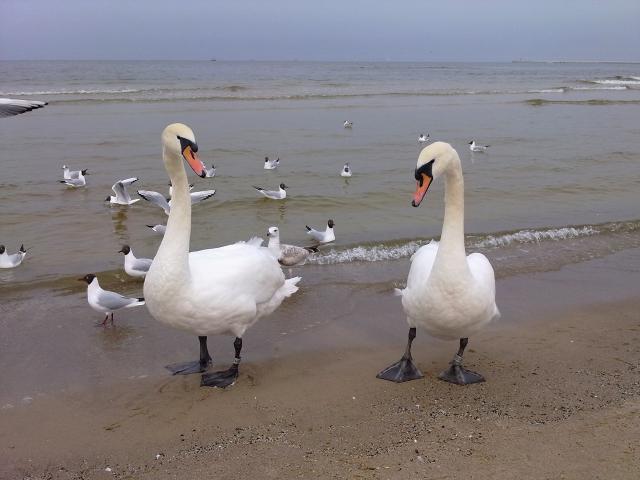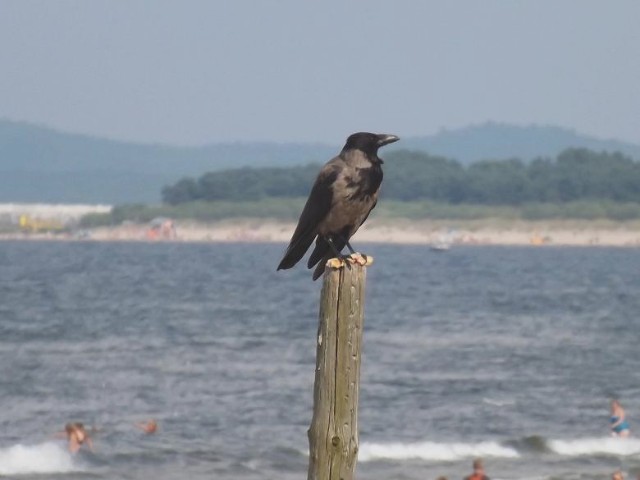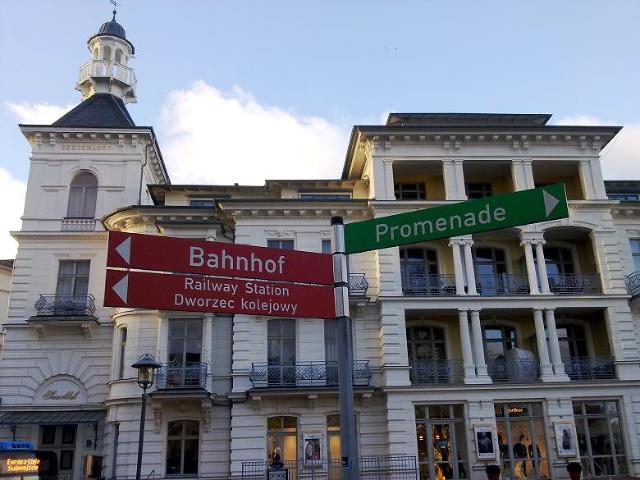 Towns are clean, streets are clearly marked and utility lines including electric cables are underground
Usedom Island is a destination for travelers on every size budget seeking a laid-back getaway in an Ecozone on the Baltic Sea (Ostsee). It's never been easier to reach the island, and more connections are in the making. The islands of Usedom, Rugen and Wolin have a long Viking, German and Slavic history. There's even a German-Slavic Viking festival held every year at the Viking village of Jomsborg and Vineta on neighboring Wolin Island. There's lots of things to do, sites to see and reasons to make your visit a pleasent one. But if for some odd reason things don't go as planned, no matter what you do or where you may travel, keep in mind this saying by an anonymous sailer;
As we sail thru life, don't avoid rough waters, just sail on because calm waters won't make a good sailor.


Word of advice
for a pleasant stay

Almost everywhere in the world tourists might attract pickpockets, bicycle and car thieves, and my get overcharged by some taxi drivers and waiters. On Usedom Island one should also be aware that on the German side of the island are fresh air tax collectors, and that they are for real. Yes, you read that correctly. On the German side of the island visitors are expected to pay a fresh air tax on arrival. It's just a few Euros if you get stopped by a collector. But the experience of getting stopped in a public place may be a shocking one for some tourists. So, don't forget to carry some change with you when going to the beach or on a walk. There's a similar tax on the Polish side called a climate tax. But visitors to Swinoujscie have to pay that tax 24 hours after arrival. Most often that's done automatically in places of accommodation. Therefore, we advise visitors not to leave baggage, bicycles and other belongings unattended, to check prices, and to carry at least a few Euros for the German tax collector.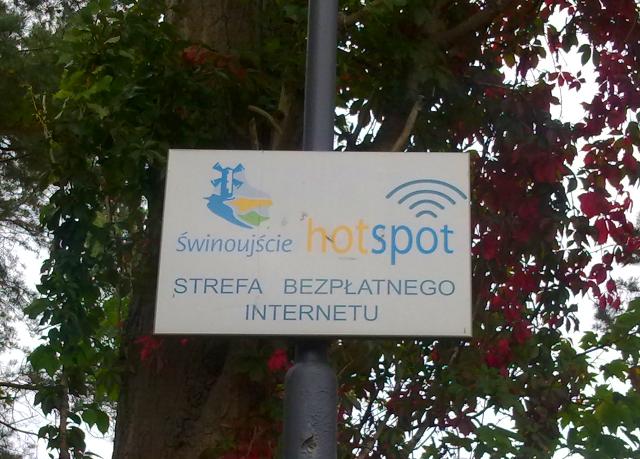 Hotspot on the promenade in Swinoujscie
Usedom Island is well connected with the world. Internet services are available in many establishments.
Free Wi-Fi hotspots can be found around the promenade on the Polish side of the island.


Surf the Web and the sea










Usedom Tourismus GmbH.
www.usedom.de


UBB Online
Usedom bus & train
Wikipedia


Live Webcams
Swinoujscie, Poland: Beach
Ferry Crossing: Queue to the Ferry